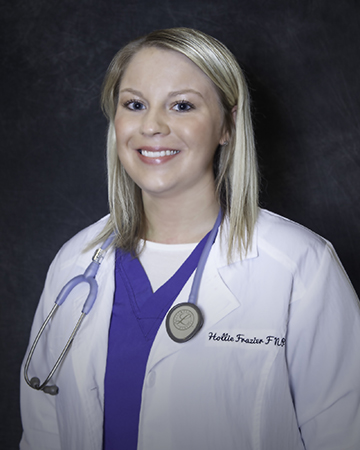 After growing up around Gleason, Hollie took her first steps into the medical profession as a clerical worker at our Gleason Clinic as her first job. This hands-on experience combined with her autoimmune disease diagnosis at a young age, Hollie knew she had found her calling to work in healthcare. She went on to obtain her BSN from the University of Tennessee at Martin in 2016 before receiving her master's in nursing with a Family Nurse Practitioner degree from Austin Peay State University in 2019.
Hollie's nursing career started as a Med-Surg nurse at Henry County Medical Center until she completed her master's degree. That's when Hollie decided to come back home and continue her nursing journey at Hometown Health Clinic. Her medical experiences and accomplishments combined with her own battles with autoimmune disease gives Hollie the insight to understand what it's like to be both patient and the provider.
Education: UT Martin Nursing, Austin Peay Master of Science in Nursing – FNP, UT Martin 2012-2016, Austin Peay 2017-2019
Experience: 5 Years
Additional Experience: SAMHSA Training for MAT Program
Interests: Spending time with family, gardening, watching HGTV
Why Medicine: The influence of a certain Physician's Assistant, Mr. J.C. Carey, inspired Hollie Frazier to pursue a career in healthcare. He was an example of how a healthcare professional can make a positive difference in anyone's life.