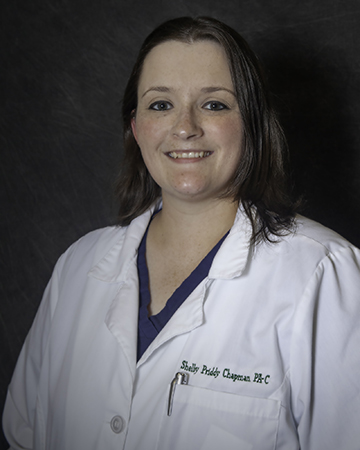 Physician Assistant Shelby Chapman first graduated from Union University in 2014 with a bachelor's degree in Cell and Molecular biology before furthering her education at Bethel University. There she graduated from the Physician Assistant Program in 2018 with a concentration in family medicine.
Certified to manage long-term care patients of Hometown Health Clinic, Shelby also sees pediatric patients as well on Fridays.
When she's not practicing medicine, Shelby enjoys spending time with her husband and their six-year-old daughter and two-year-old son. As an identical twin, she's also close with her sister and enjoys gardening, reading, and playing video games in her free time.
Education:
Union University – 2010 – 2014 – Bachelor of Cell and Molecular Biology
Bethel University – 2016 – 2018 – Master of Physician Assistant Studies
Experience: 3 years
Interests: Playing softball, planting flowers/gardening, fishing, and playing video games
Why Medicine: Ever since she was little, Shelby has wanted to take care of people when they were sick. When family and friends were sick, she would be the one going to get them a cool washrag or drawing them a picture to make them feel a little better. But she knew she really wanted to go into medicine when she was in an accident in the third grade that resulted in a concussion and laceration on her head. She was taken to Dr. Debra Selby, her pediatrician, who sutured her laceration and was able to calm her down and make everything ok. She knew after that that someday she wanted to be the one bringing that kind of comfort to other people when they weren't feeling well.